x
Thank you for submitting an inquiry. We will get back to you as soon as we can.
Arenal Volcano Hike & Baldí Hot Springs
This combination tour is a favorite for visitors to La Fortuna. Not only will you visit two of the most iconic places in Costa Rica, but you will also be able to immerse yourself in the sublime nature that surrounds the Arenal Volcano, learn about the local culture and traditions from your passionate nature guide, and enjoy various thermal hot spring pools at the end of your day to unwind and rejuvenate.
Your day will begin with your first hike on a scenic trail at the bottom of the Arenal Volcano that will take you through the rainforest and over recent lava flows. The Arenal Volcano eruption of 1968 left the area completely destroyed and it is now in the process of regeneration. Before the active period of 1968, a splendid canopy of vegetation covered the Arenal Volcano. People who used to climb to the top of Arenal reveal that they slept in the crater surrounded by large trees enjoying the sound & warmth of the small steam vents under the light of the stars.
On this 3-hour guided hike, you'll learn from your naturalist guide about the history of the majestic Arenal Volcano and the impact it had on our local area and community throughout the centuries. Marvel at the breathtaking views just before heading back to continue onto your second highlight of the day!
The Baldi Hot Springs is the most expansive hot spring facility in the Arenal Volcano area. The pools are large and small, hot and cold, with walking paths between them.
Get to relax in the pools and choose among the different temperatures to rejuvenate body, mind and soul. For the more adventurous, get to choose from a range of water slides to add some fun to your wellness experience.
This tour includes shuttle transportation from and to your La Fortuna hotel or vacation home.
What's included?
Transportation
Naturalistic guide
Bottle water
Park & hot springs entrance fee
Dinner
What do I need to bring?
Long pants
Light sweater
Hiking shoes
Camera
Binoculars
Sun lotion
Repellent
Rain coat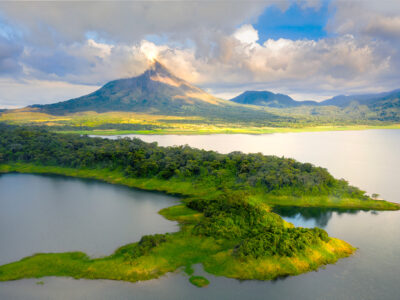 Prepare to be amazed by the awe-inspiring beauty of Arenal Volcano National Park, located in the northwestern region of Costa Rica. This captivating destination offers a unique blend of natural wonders, including the majestic Arenal Volcano, lush rainforests, diverse wildlife, and exciting outdoor activities. Immerse yourself in the splendor of this iconic volcano and discover the magic of the surrounding landscapes.
