x
Thank you for submitting an inquiry. We will get back to you as soon as we can.
3 in 1: Safari Float + Waterfall Hike + Farm Lunch + Hanging Bridges
The Peñas Blanco River is fed by the pristine waters of several private cloud forest reserves in Monteverde and is surrounded by lush rainforest, natural volcanic hot springs, waterfalls and forested canyons that measure upwards of 700 feet (213 m) in height which makes this river an indisputable scenic adventure. Following your safari float on the Peñas Blanco River you will get to visit two of the most iconic landmarks at the foothills of the Arenal Volcano - The majestic La Fortuna Waterfall and the Mistico Park Hanging Bridges.
Itinerary
Experience the wonders of Costa Rica's natural world with a unique safari float on the Peñas Blancas River, a haven for biodiversity and wildlife sightings. Accompanied by an expert naturalist guide, calmly maneuver down the river while being on the lookout for exotic birds, monkeys, sloths, crocodiles, and more. This safari float trip offers a chance to explore places that can't be reached by car or horseback, providing breathtaking views of the landscape.
Next, immerse yourself in the majestic beauty of the La Fortuna Waterfall, which stands at a height of 210 feet (64 meters). This adventure requires moderate walking conditions as you descend 500 meters downhill to the bottom of the river, where the "natural pools" invite you to take a refreshing swim. Don't forget to bring your camera to capture some of the most memorable landscape and vacation pictures.
After returning to the top of the waterfall park, indulge in a rich, traditional Costa Rican farm-to-table lunch to replenish your energy for the last highlight of the day.
At Mistico Park, cross 12 hanging bridges of varying lengths, ranging from 5 to 100 meters, for a total circuit of 3 km of trails in the tropical jungle. Witness different species of wildlife in the forest canopy, along the suspension bridges, and on the forest floor. Closed tennis or walking shoes are required for this adventure, as the park does not allow hikers wearing sandals or shoes that don't completely cover their feet.
Overall, this full-day adventure provides an unforgettable experience of the natural wonders of La Fortuna, Costa Rica, with opportunities to witness unique wildlife sightings and breathtaking landscapes, culminating in an immersive journey through the secrets of the rainforest.
What's included?
Transportation
Naturalist Guide
Entrance Fee
Bottled Water
Lunch
You must enter a tour map code in the appropriate field when editing your tour in order for it to be displayed here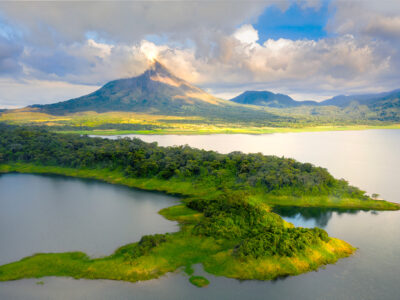 Prepare to be amazed by the awe-inspiring beauty of Arenal Volcano National Park, located in the northwestern region of Costa Rica. This captivating destination offers a unique blend of natural wonders, including the majestic Arenal Volcano, lush rainforests, diverse wildlife, and exciting outdoor activities. Immerse yourself in the splendor of this iconic volcano and discover the magic of the surrounding landscapes.
Welcome to the stunning La Fortuna Waterfall, a natural wonder nestled in the heart of Costa Rica. With its awe-inspiring beauty, inclusive atmosphere, and a plethora of opportunities for adventure, this waterfall is a must-visit destination for travelers of all types.
